4014 Journeys
The official website of RailGiants' - R&LHS Southern California Chapter's Passenger Excursion Service
The Big Boy Steam Dream
has come true!
Big Boy No. 4014 visited Southern California.
Our Big Boy passenger excursion train in October 2019 was a great success. We thank our hundreds of passengers who supported our organization and the countless railfans watching Big Boy on its journeys.
Watch our special video commemorating the excursion train from the inside and from trackside.
We do not know if we will have a future opportunity inviting you to share such an experience again.
Return to this page for updates, by saving www.4014journeys.org on your website favorites or bookmark list.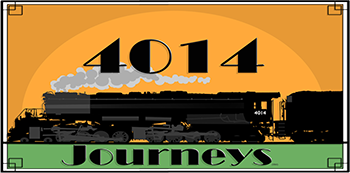 4014 Journeys, the Big Boy Passenger Excursion service of:
The Railway and Locomotive Historical Society, Southern California Chapter