Southern Pacific 5021
A Brief History Of This Engine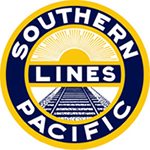 Southern Pacific Locomotive number 5021 is 4-10-2 wheel arrangement steam locomotive, known as a "Southern Pacific" type. These locomotives were built between 1925 and 1927 for Southern Pacific Railroad for use in both passenger and freight service, primarily for use across the Sierra Nevada Mountains over Donner Summit between Sacramento, California and Reno, Nevada. The long driving wheelbase of five driving wheels on each side damaged some rails and required straightening of many curves. To eliminate need for many curve reconstructions, all such locomotives were subsequently assigned to other divisions of the Southern Pacific Lines. Those areas included Portland, Oregon, California's San Joaquin Valley, and the Sunset Line between Los Angeles, California to El Paso, Texas.
The final service years of No. 5021 were spent mostly near Portland, Oregon, and remained in operation until 1955. This locomotive was donated by Southern Pacific Railroad to The Railway and Locomotive Historical Society, Southern California Chapter on March 8, 1956.
No. 5021 is the only survivor of 49 such locomotives built of this type. More significantly, it is one of four surviving three-cylinder steam locomotives built in the United States. Another of these three-cylinder locomotives is Union Pacific No. 9000, which is also on display here at RailGiants Train Museum.
The Railroad That Won The West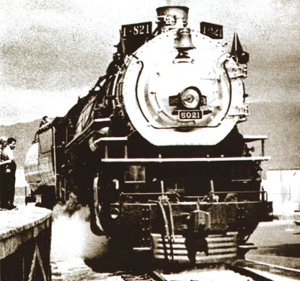 The Southern Pacific was established in 1861 by the same 'Big Four' group of Sacramento businessmen that had financed the Central Pacific Railroad. It received its charter in 1865, and began to build a branch line across the Central Valley of southern California to connect with the main line. By the 1870s, it had become the more important of the two companies, and subsumed the Central Pacific in 1884. It was granted substantial public lands for construction of its lines, and became such a powerful concern in California that it was attacked as an 'octopus' reaching into all aspects of the state's life. In more recent times, it relinquished most passenger services in 1971, and merged with the Denver and Rio Grande Western Railroad in 1988. In 1996, when it was acquired by the Union Pacific Corporation, it became the company's largest railway concern.
In the late 1870s, the Southern Pacific extended southeast from Los Angeles across the Colorado Desert to Yuma, Arizona, with the aim of meeting other railway lines that were being built west across Texas and New Mexico. By 1883, it was running services from Los Angeles via El Paso, Texas to New Orleans, Louisiana. Its most famous train, the Sunset Limited, travels this route today.

Click on the PDF icon to open your copy of our Southern Pacific #5021 Brochure