Southern Pacific 5021
A Brief History Of This Engine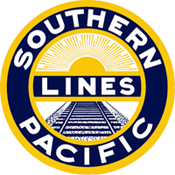 Locomotive number 5021 is the only remaining member of a group of forty nine 4-10-2 Southern Pacific type engines which were built between 1925 and 1927 for both passenger and freight service, primarily for use on the line from Sacramento to Reno. The long driving wheelbase proved detrimental to the rails on that line and all of the locomotives were subsequently assigned to other portions of the system, ranging from Portland, Oregon all the way to the end of Southern Pacific's Coast Lines which terminated at El Paso, Texas.
The last years of number 5021's career were spent in service largely in Oregon where she was assigned to the Portland Division, remaining in operation until 1955. On March 8, 1956 the locomotive was donated to the Southern California Chapter of the Railway and Locomotive Historical Society for display, here at the Los Angeles County Fairgrounds. Number 5021 is one of only four 3-cylinder steam locomotives know to exist in the United States.
This engine also has a trailing truck booster.
The Railroad That Won The West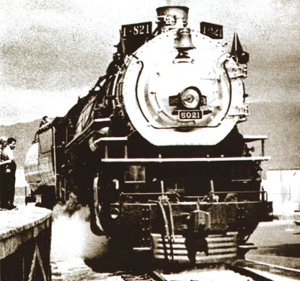 The Southern Pacific was established in 1861 by the same 'Big Four' group of Sacramento businessmen that had financed the Central Pacific Railroad. It received its charter in 1865, and began to build a branch line across the Central Valley of southern California to connect with the main line. By the 1870s, it had become the more important of the two companies, and subsumed the Central Pacific in 1884. It was granted substantial public lands for construction of its lines, and became such a powerful concern in California that it was attacked as an 'octopus' reaching into all aspects of the state's life. In more recent times, it relinquished most passenger services in 1971, and merged with the Denver and Rio Grande Western Railroad in 1988. In 1996, when it was acquired by the Union Pacific Corporation, it became the company's largest railway concern.
In the late 1870s, the Southern Pacific extended southeast from Los Angeles across the Colorado Desert to Yuma, Arizona, with the aim of meeting other railway lines that were being built west across Texas and New Mexico. By 1883, it was running services from Los Angeles via El Paso, Texas to New Orleans, Louisiana. Its most famous train, the Sunset Limited, travels this route today.