Union Pacific 9000
A Brief History Of This Engine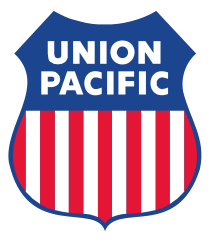 Union Pacific locomotive number 9000 was donated to the Chapter by the Union Pacific in May of 1956. Designated a 4-12-2, or Union Pacific type, it is the largest steam locomotive built on a rigid frame and it has a wheelbase of over 30 feet. Its 12 drive wheels are powered by three massive cylinders, one of which is located between the frame - transmitting its power through a crankshaft on the second driver axle. The other two cylinders are connected to the conventional main and side rods which attach at the third driver. Number 9000 was built for fast, heavy freight service. It is the only survivor of a group of 88 similar locomotives built for the Union Pacific. It saw continuous service for almost 30 years and was used mainly between Green River, Wyoming and Council Bluffs, Iowa.
"Up" In Wyoming
Wyoming's place in railroad history is secure, and the opportunities for watching trains and train crews in action are legend. Southern Wyoming's development is linked with the Union Pacific Railroad. It laid tracks westward across the state in 1867 and '68 in a race to build the first transcontinental railroad. Settlements sprang up virtually overnight to house legions of workers. Some were abandoned. Others became permanent communities.
Towns grew up as fast as workers could lay track westward to Laramie, Rawlins, Rock Springs and Evanston. Elsewhere in the state, smaller lines were also built. Nine historic Wyoming depots are now museums dedicated to railroad history. Green River in the southwestern corner boasts busy Union Pacific rail yard and the 1910 depot, now used for offices.
While the Union Pacific is the dominant east/west railroad, BNSF is the main north/south line. Between them, they haul the more than 400 million tons of low-sulfur coal produced annually in Wyoming, the nation's number-one coal state, to the nation's hungry electricity-generating plants. Roughly a quarter of this output comes from ten huge mines in the Powder River Basin, south of Gillette. The UP and BNSF jointly own the rail line out of the coalfields, parallel to Highway 59 and are rapidly laying more tracks to keep up with the demand for coal. When the trains, each up to 1½ mile long, reach the North Platte River, the tracks split. Gillette, founded in 1891, was named after Edward Gillette, a railroad surveyor and engineer. If he were around today, he'd surely find work on the new tracks.