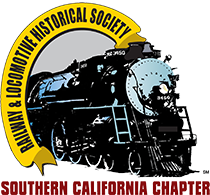 Society History
The Railway and Locomotive Historical Society, founded in 1921, is the oldest organization in North America devoted to railroad history. Its object is to promote research and to encourage preservation and documentation of all facets of railroading. We take pleasure in welcoming you to our exhibit at the Los Angeles County Fairgrounds in Pomona, California. A small group of devoted railroad historians gathered in a home in the spring of 1953 and set the wheels in motion to organize this local chapter and on June 5, 1953 the deed was done.
This exhibit first opened in 1954 with our first acquisition, the Climax geared type locomotive, #3. It was donated by Sunkist Growers, Inc. Since that time 7 more locomotives, a Heavyweight Pullman Lounge, a Santa Fe wooden Caboose, Refrigerator car, an AT&SF Horse Express car and two track motor cars have been added to the rolling stock exhibit.
The center of Museum activities is the former Santa Fe Depot from Arcadia, California. This was given to the Society in the summer of 1969. Built in 1895, it witnessed the daily passing of the Santa Fe's finest trains but became obsolete with the coming of the 210 Freeway. It had to be moved or demolished and so it is now preserved as a classic example of a 19th Century Santa Fe Station.
Our exhibit is maintained by a dedicated staff of volunteers who work at the museum to keep our exhibits maintained for public exhibition. Admission to the Museum is always free, we only ask for you generous donations to help maintain our historic railroad equipment.
Click on the pictures above or follow the links on the Explore link on the top left of this page.
Thank you.