Atchison, Topeka and Santa Fe 3450
A Brief History Of This Engine
Hudson type locomotive number 3450 was designed for high speed passenger service, and was the first of ten similar 4-6-4 locomotives built for Santa Fe in 1927 at a cost of $73,735.60 each. In the early days of its life, number 3450 charged across the Midwestern plains leading sleek transcontinental passenger trains with 73-inch driving wheels and a coal burning fire box. It was rebuilt in 1937 with 79-inch drivers and was converted to burn oil to increase its speed to over 100 mph. It hauled Santa Fe's Fast Mail Express, Scout, California Limited, Grand Canyon and Chief between Chicago & Colorado.
Number 3450 was later assigned to service in California's San Joaquin Valley, between Bakersfield and Oakland. The massive, 20,000 gallon tender was a 1952 modification. Mileage exceeding 100 times the distance around the earth was accumulated by its retirement in 1953. Number 3450 was donated to The Railway and Locomotive Historical Society, Southern California Chapter in October 1955, by Atchison, Topeka and Santa Fe Railway. Today, number 3450 is the sole survivor of 10 similar units built, and is the Gateway locomotive of RailGiants Train Museum.
The Atchison, Topeka and Santa Fe... Trailblazer To The Frontier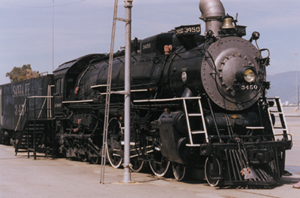 A former railway that was one of the largest in the United States it was chartered in Kansas as the Atchison and Topeka Railroad Company in 1859, and it later exercised great influence on the settlement of the southwestern United States. It was renamed the Atchison, Topeka and Santa Fe Railroad in 1863 and acquired its modern name in 1895. Its founder was Cyrus K. Holliday, a Topeka lawyer and business promoter, who sought to build a railroad along the Santa Fe Trail, a 19th century trading route that ran from Independence, Missouri to Santa Fe, New Mexico. The railroad's main line to the Colorado state line was completed in 1872.
The railroad was further expanded in the 1880s and early 1890s to reach about 9,000 miles (14,480 km), but it lost some of this mileage in a reorganization brought on by the financial crisis of 1893. Under Edward Payson Ripley, its president from 1895 until 1920, the Santa Fe flourished and grew to more than 11,000 miles (17,700 km) of track. By 1941 it had more than 13,000 miles (21,000 km) of track, but it shrank gradually thereafter. In 1968 the company became a subsidiary of Santa Fe Industries, Inc., a holding company. In 1983 this company and the Southern Pacific Transportation Company agreed to merge into the Santa Fe Southern Pacific Corporation, but the merger was rejected by the ICC in 1987. The Southern Pacific rail system was sold off in 1988, and in 1989 the Santa Fe parent company became known simply as the Santa Fe Pacific Corporation. Burlington Northern, Inc., purchased the Santa Fe Pacific Corporation in 1995, and the resulting company took the name Burlington Northern Santa Fe Corporation (BNSF).

Click on the PDF icon to open your copy of our Santa Fe #3450 Brochure