DD40x "Centennial" Diesel Engine 6915
A Brief History Of This Engine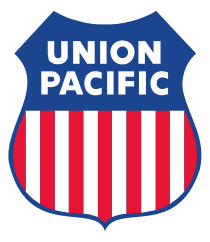 This unit is the largest and most powerful diesel locomotive ever built. It was retired in 1984 and donated to the Southern California Chapter of the Railway & Locomotive Historical Society in 1986. Engines in this class were custom built for the Union Pacific Railroad and were called Centennials in honor of the 100th anniversary of the driving of the Golden Spike at Promontory, Utah in 1869.
No. 6915 is one of 46 units constructed, and is one of only a handful of Centennials left, the nearest examples being at Portola, California and at Cheyenne Wyoming, where unit 6936 is kept in running condition for special events, by Union Pacific. No. 6915 was built by the Electro-Motive Division of General Motors in October, 1969. We are currently restoring No. 6915 to its configuration at the time of its retirement.
The Era Of The Diesel Electric Locomotive
Although diesel locomotives first came to American railroads in the 1920s, their use was confined to switch engines, and later to passenger train locomotives. It wasn't until 1940 that the Electro-Motive Division of General Motors (EMD) demonstrated that diesels could practically replace steam locomotives in heavy-duty service. A pioneer freight diesel, model "FT," toured the nation's railroads and changed history. Much like its sister passenger locomotives of the day, it was styled with an automobile-like nose and windshield, a design that prevailed until the late 1950s.
Although commonly called "diesels," the locomotives actually are electrically driven. The diesel engine drives a generator, which produces electricity to run electric motors mounted on the locomotive's axles. The internal combustion engine was a dramatic improvement in efficiency over the steam locomotive, making substantial savings possible in maintenance and the elimination of widespread facilities. Extra units could be coupled together and run by one engineer from the lead unit, creating very powerful combinations.
Many railroads, including Union Pacific, were unable to take quick advantage of the new technology due to material shortages caused by World War II. Union Pacific's fleet of modern steam locomotives and plentiful on-line coal reserves in Wyoming were another factor in UP's late entry into the dieselization race. After the war however, railroads began sweeping the rails clear of the classic steamers. Union Pacific began its sweep in the late 1940s on the line running through the southwestern deserts, where water was difficult to obtain for steam engines.